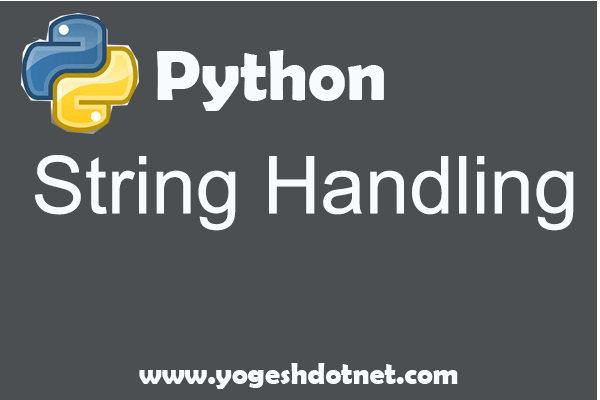 Basics of Python Strings.
A Python string is a sequence, which consists of zero or more characters.
The string is an immutable data structure, which means they cannot be changed.
String Function
Len function: In order to find the length of the string. Ex len(string variable).
The subscript operator([]):It is used to access the elements of string, list tuple, and so on.
Syntax: <given string>[index].
The -1 index represents the last character
Slicing for substrings
In many situations, you might need a particular portion of strings such as the first three characters of the string.
Python's subscript operator uses slicing.
In slicing, colon : is used. An integer value will appear on either side of the colon.
print(name[0:4])
print(name[23])
print(name[0:-1])
print(name[:8])
print(name[::2])
Python string methods:
Count Function:The count method returns the number of occurrences of the substring substr in string
Find Method: The find() method is used to find out whether a string occurs in a given string or its substrings.
find method will only give the index of the first occurrence.
If you want to find the occurrence from right, you can use the rfind method.
String case methods
lower() method.
upper() method
capitalize() method:capitalize the first character of the line.
Title method: convert the first character of every word of the string in uppercase.
A swapcase method allows the user to swap the cases:
String strip methods
Dealing with the strings, many times programmers encounter the problem of undesirable character/characters at the end or beginning of the string, such as space or new line character at the end, for example, " Baba saheb " and "Dr Ambedkar n".
To handle these problems, the Python string class comes loaded with three methods.
Rstrip method:unwanted character/characters get removed from the r
If you do not provide any chars as argument, then space is taken as default. right side of the string.
If you want to strip from the left-side use the lstrip() method. If you want to strip from both sides, use the strip() method.
String split methods
Sometimes we see strings in the form of parts.
based upon delimiters, we can split strings into parts and take the desirable part.
Syntax :Str1.split("delimiter", num)
The split method returns a list of all the words of the string separated by a delimiter and the num integer specifies the maximum splits.
If you don't provide any delimiter, then the space is taken as the default.
If you want that splits should be started from the right, then you can use the rsplit()
Some special methods of string
Replace : This method returns a copy of the string in which the old character(s) are replaced with new character(s).
Join Method : Consider you have a sequence (list or tuple) of string and you want to join values of the sequence.
String Boolean Method
return the value in the form of True or False based upon certain conditions.
Endswith method: Sometime we are interested in strings which are ends with particular substring. For this we use string method endswith()
Startwith method:which works the same way as the previous method, just check the condition from the beginning.
Isalpha method: assure that the given string must contain only letters.blank spaces are not allowed.
isalnum() method : check the alphanumeric characters appearing in the string. This method returns True if the string contains only alphanumeric characters like hello123 allowed but hello123# is not allowed. Blank space are not allowed
Isdigit method: If you only want to check digits, then you can use the isdigit() method
isspace(), which returns True if the string contains only spaces
The istitle() method returns True if the string is in title case.
Islower()- Check Lower Case
IsUpper()- Check Upper Case
Min():The min() function returns the min character from string str1 according to the ASCII value.
Max():which returns the max characters from string str according to the ASCII value
All Example:
1

2

3

4

5

6

7

8

9

10

11

12

13

14

15

16

17

18

19

20

21

22

23

24

25

26

27

28

29

30

31

32

33

34

35

36

37

38

39

40

41

42

43

44

45

46

47

48

49

50

51

52

53

54

55

56

57

58

59

60

61

62

63

64

65

66

67

68

69

70

71

72

73

74

75

76

77

78

79

80

81

82

83

84

85

86

87

88

89

90

91

92

93

94

95

96

97

98

99

100

101

102

103

104

105

106

107

108

109

110

111

112

113

114

115

116

117

118

119

120

121

122

123

124

125

126

127

128

129

130

131

132

133

134

135

136

137

138

139

140

141

142

143

144

145

146

147

148

149

150

151

152

153

# memory address will be changed

# Get Value of Memory Address

name2 = ctypes.cast(nameaddress,ctypes.py_object).value

"""name ='My Name is Yogesh Sharma'

"""name = "My Name is Yogesh sharma"

print(name.count('a',8,24))

# TO Find first Index from right

"""name = 'My Name is yogesh sharma'

mY nAME IS YOGESH SHARMA"""

"""name = 'Yogesh Sharma'

print(name.rstrip('rma'))

# For Blank space from right side

# String split methods. Returns output in a list

print

(

mydate

.

split

(

'-'

,

1

)

)

newdatelist

=

mydate

.

split

(

'-'

)

name2

=

'my name is yogesh sharma'

# ['my', 'name', 'is', 'yogesh', 'sharma']

print

(

mydate

.

rsplit

(

'-'

,

1

)

)

name3

=

'Yogesh Sharma was a nice person'

print

(

name3

.

replace

(

'was'

,

'is'

)

)

#Yogesh Sharma is a nice person

name4

=

'Yogesh sharma was a nice person, his reputation was gud'

print

(

name4

.

replace

(

'was'

,

'is'

,

1

)

)

# Yogesh sharma is a nice person, his reputation was gud

mylist

=

[

'yogesh'

,

'sharma'

]

# endswith method example - return True or false value only

name4

=

'My name is Yogesh sharma'

print

(

name4

.

endswith

(

'rma'

)

)

print

(

name4

.

endswith

(

'pma'

)

)

# To check upto particular Index Only

str1

=

"Life should be great rather than long"

print

(

str1

.

endswith

(

'er'

,

0

,

27

)

)

print

(

str1

.

startswith

(

'Li'

)

)

# Output: False (Blank space are not allowed)

str7

=

'My Name Is Yogesh Sharma'

# islower and isupper methods